Roll up, roll up! Get your tickets now for the Greatest Show On Earth! Wait, did I say show? That should have been dress… What I meant to say is 'Get your order in now for the Greatest Dress on Earth!', because that is exactly how I feel about this unbelievably magical Unique Vintage Billie Swing Dress with vintage circus ticket print. It was created to amaze, and as you can see, it does not disappoint!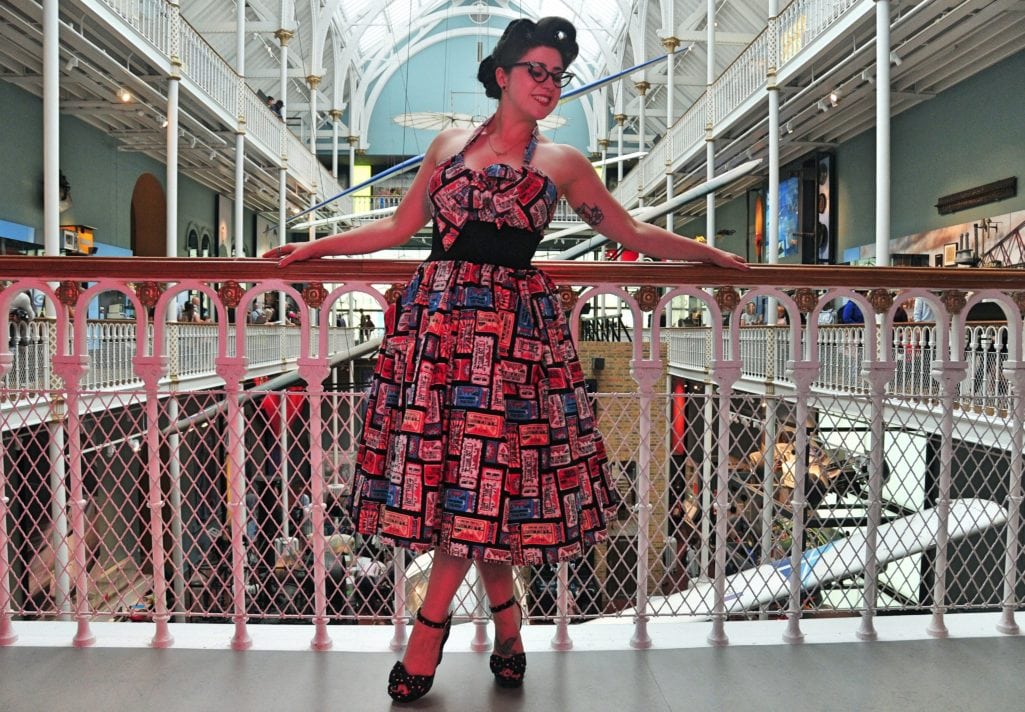 For those of you who are new to the name, Unique Vintage is a brilliant reproduction clothing store based in LA who create their own fabulous products as well as a stocking a great selection of other well known brands. They have a *huge* selection of dresses, separates, shoes and accessories online too, where you can shop pieces inspired by the 1920s to the 1970s and find incredible wedding and prom pieces. The best part? They have a killer selection of plus size pieces using the same designs and fabrics as their standard lines. This makes me jump with joy because I often get asked about brands who do and I'm usually a little stuck for places that I love. Oh! And, as a bonus feature on this website, they have a Bridal shop which breaks down into Bride, Bridesmaid and Wedding Guest, taking the pain out of endless scrolling and inappropriate decisions; if I ever get married this will be noted to everyone on my invites, it is genius!
What drew me to the Billie dress is that darling gathered halter neckline; I've never seen anything quite like it! This dress has been designed so this neckline can be altered by tightening it; as you can almost see in the image below, there is a very well hidden zipper down the front of the dress. When you put this on you fasten it closed using that, then tie the strap at the front. This makes the dress really easy to put on and it allows you to tighten / loosen it to fit your bust as comfortably (and stunningly!) as possible. That also means there's no irritating knot at the back of your neck and you don't have to worry about it pulling out the back of your up-do. Rejoice ladies!!
The cut of the dress is really flattering, I ordered a size medium (I'm around a UK 8-10) but due to how it's structured, it would fit any body shape with a 28-29 inch waist, which is ideal for ladies with a larger bust. The circus ticket design is one of the greatest novelty prints I've seen in a long time as it's kitschy cute without being childish. The fabric itself is really lightweight which is unusual for a swing dress with such a great gathered skirt, but it's devine; it's not heavy to wear, it's not an outfit that you're going to be sweating buckets in when your on the dance floor, and it doesn't take much spinning to get it to a good height on that skirt swirl!
Another thing that has me drooling is the fact that it has pockets. HOORAY! Being on the outside of the skirt they add a really sweet detail to the outfit. The only problem is that they're cut at an angle, meaning the pocket depth is actually pretty shallow. You can still fit your phone in, but you wouldn't want to dance too vigorously with it in there. Pockets on a dress though – one cannot complain!
As you can see from this photo shoot I am completely smitten. I got so many compliments during the shoot that I genuinely lost count! They have a few different patterns available in this style, but this particular piece is part of their new circus collection which you absolutely must check out and buy up before it sells out… you're going to be spellbound!
Thank you so much Unique Vintage, I can't wait to see what your next collection is going to bring – I have every faith it's going to be a winner!
Big love to my favourite Edinburgh pinup team for perfecting my look for these pictures! Hair: Lipstick Lashes and Locks Photography: Carolyn Henry
xox