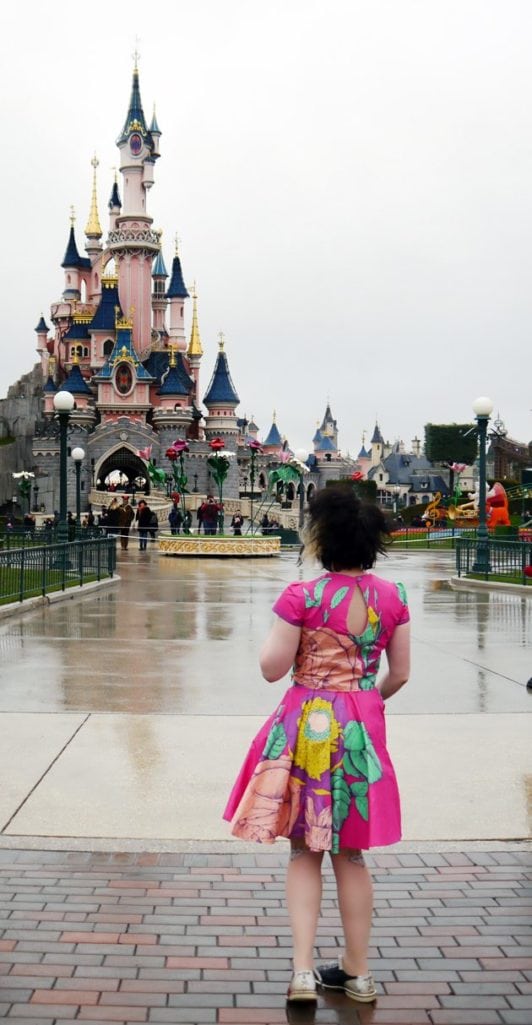 You know one thing happens for sure when I find out I'm going away on holiday… I start planning my outfits straight away! And when I started planning for an extra special trip for Disneyland Paris, I decided to go all out and get a twin set made by my favourite Edinburgh based seamstress, RowanJoy. I've never had a dress made especially for me before, but I am totally dying over how freaking awesome it is. Not to mention how perfect it was for the Spring Fling parade they threw! I literally had heart shaped eyes just like my favourite emoji. You can see why, right?! Hooray for planning in advance!
When I was posing for these photos in front of the castle, I literally had a French dude shout 'Oooh La La' from the sidelines. I have absolutely no shame in admitting that this made me super happy; I didn't realise this was an actual thing that happened! Waaay more flattering than the British alternative, which would sound a lot more like 'Whit tae woo hen' I suppose… or something way more offensive than is suitable for a blog post about Disneyland!
As cheesy as it sounds, Disney has always had a special place in my heart. I was extremely fortunate in that I spent a lot of summers hanging out with my cousins in Florida park, and I still get as giddy over the sight of the castle now as I did when I was a wee raggamuffin. Although I'm an adult, there is still something extremely magical about this place, and when we decided to take my best friend here for her 30th birthday, I knew it was going to be one of the best trips ever; she'd never been, I'm going with a girl gang and I know all the tips and tricks!
They only thing that didn't go to plan on this holiday was the weather, hence my bowling shoes. It rained and snowed during our trip. But as you can see that didn't stop me from dressing up and having all the fun!
So, if you're planning to go soon, here are my top 10 tips for Disneyland Paris:
If you can't afford to stay in one of the Disney hotels, be sure to check out their sister hotels. We booked the Magic Circus Hotel for 4 people over a couple of nights and it worked out at £92 TOTAL. That's crazy good pricing! The hotel was fantastic (bonus: there were no creepy clowns!) and had a brilliant breakfast available, including made to order crepes (!!) which was all included in the price. There is a super frequent free bus that takes you to the parks too, so once you get there, you don't have to worry about a thing.
As soon as you get in the parks, FastPass the most popular rides to avoid the queues. Biggest lines can be found at: the Ratatouille ride, Crush's Coaster, Space Mountain, Thunder Mountain, Buzz Lightyear's Laser Blast, Tower of Terror and Peter Pan's Flight. Be sure to check what rides are closed when you're planning to visit; March is a really cheap month to go because a few of the bigger rides are closed for general maintenance. You can find this info in Disneyland Paris's website here
The kid's meals come in a super cute Micky lunchbox, and I would say it was a decent amount of food for an adult. SO! Be like me and order the kids meal with a diet coke and get a beer on the side. Why? Because in Disneyland Paris, you can have a kids meal and drink beer, that's why.
If you go to the Blue Lagoon restaurant, you can have lunch and watch people sail by on the Pirates of Caribbean ride. Dinner and a show heehee!
If you go to Ratatouille restaurant, keep an eye out for Remy, who has been known for hanging out in the desert cart. This is a great place for kids, and big kids like me.
Book Buffalo Bill's Wild West Show for dinner. You get a 3 course meal, it's vegetarian friendly, and it's a great show. There is also beer included in the price, served direct at your table. To make sure it get's filled up each time, make sure you finish your pint before the server comes around. I'm not an alcoholic, but I do like free beer!
If you're into collecting pins, you can trade anything you have for anything you see on the lanyards the Disney staff wear. You can start off with a really crap one that cost you buttons and end up with something really special at the end of the day. This is a fun way to keep kids entertained without spending too much money. Just encourage them to ask the staff to trade, they'll never say no!
Keep your eye out for the dragon under the castle, and remember you can go UPSTAIRS and check out the amazing Sleeping Beauty stained glass windows inside. When you exit, you get to walk outside the back of the castle too, which gives a great view of the park!
 The best view for the firework display is in front of the Lion King floral sculptures at the end of Main Street. I know this because I asked a lot of Disney staff (I'm a keen bean and have no shame!)
First visit? Getting married? Pop into the Town Hall, right at the start of Main Street to get your free badge. This is also a great place to chat to the staff if you have any questions. I found out a bunch of park secrets that totally dropped my jaw – but I'll save that for another day 😉
One last thing, there is no WiFi in the Disneyland Paris parks. Our hotel did have free wifi for guests though, so I could still instagram the crap outta the place at the end of the day. This was annoying at first, but quickly became my favourite thing. Who needs instagram when you can live it!
*Bonus Fact* You can get your haircut at Dapper Dan's, which is just off Mainstreet. How freaking cool is that!!
So there you have it! I hope you found my tips helpful and I hope you have a super magical trip. If you have any secrets you wish to share, please comment with them on this blog post 🙂
Outfit: If you would like to read all about my amazing housewife-on-acid twin set outfit, check out the blog post I wrote about my experience with RowanJoy on the Hill Street Design House blog My glasses are from Bon Look (review here) and the bowling shoes are genuine… that's all I'm going to say!
PS! Dapper Day in Disneyland Paris is on 16th April… and they used this picture of me in Rowan's dress on instagram to share the news <3  Best day ever!!