When KIKO Milano invited me to the opening of their first store in Edinburgh I was pretty excited – not only because we had a shiny new make up shop in town, but also because I had heard so many things about the brand but hadn't had the chance to check them out yet. I genuinely had no idea what to expect when I walked inside, and couldn't quite believe my eyes when I did. Imagine walking into Willy Wonka's chocolate factory; they had everything a girl could dream of, and then a little more! The best part? They love to let you try everything on – you can even get a make over in store with no pressure to buy the products. But with prices as affordable as these, I'd say you'd be hard pushed not to treat yourself to something!
Cruelty Free
When I found out KIKO's products are almost entirely cruelty free I did a little happy dance because supporting companies that strive to avoid this unnecessary practice is incredibly important to me. And when I say 'almost entirely' I'm pleased to share that the exceptions are the black bristled brushes and the lipsticks. The lipstick's contain beeswax, which although has some downsides, does give the product incredible long lasting staying power and moisturising benefits to your lips. The brushes are made with donkey hair, but unlike most companies, KIKO Milano not only avoid shaving the animals, they have their own farm where every single hair is collected from daily brushing of the donkeys. Not only are the brushes super soft and incredibly well made, it sounds like the donkeys are too!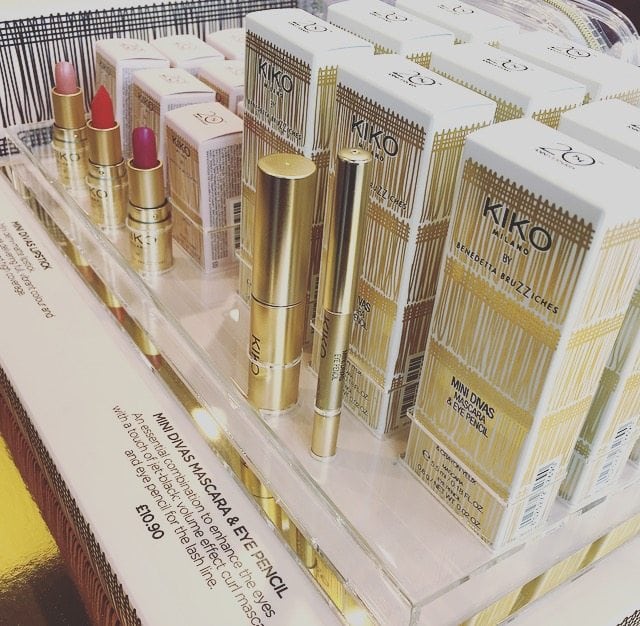 Brand Collaborations & Limited Editions
Another thing that excites me is their brand collaborations / limited edition products. I am a total sucker for packaging and seeing how they create special lines with various artists and designers. For their 20th Anniversary they've collaborated with Italian Vogue and Benedetta Bruzziches on their Mini Divas collection, which I have no shame in admitting I am completely obsessed with. With an upcoming holiday and a collection of clutch bags that can barely contain my mobile phone, this miniature line has been a gift from the god's to me; they're incredibly great quality, look fab and are the perfect size for those times when you need to carry as little as humanly possible. Other collaborations that are drool worthy and still available are Tropical Heat and Spring 2.0 which was created with an Edinburgh born architect (!!) I'm excited to see what they come up with next; with such a quick turn around on these (I think they're almost monthly), they've already planned what's coming up well into 2018. If that's not a great reason to follow them online to keep up to date with launches I don't know what is!
Product Review
First of all, I have got to tell you how thrilled I am by the amount of colour options of the make up and nail polishes. I am incredibly particular about what colours I wear and rarely go off piste, especially when it comes to anything I'm putting on my face. Give me a gold shimmery eyeshadow and a red / pink lip and I am happy as Larry, but if the shade's not quite right you can bet your bottom dollar you wouldn't catch me dead in it. When I saw how many red lipsticks they had with a blue base (opposed to orange), my jaw was on the floor. Yes, I really am that particular, so you can imagine how delighted I am to have such an incredible store in my own city! Naturally, this has lead to a bit of a make up binge, but as everything is priced so cheaply (ballpark £4 – £8 for lips, eyes and nail products! Skincare and brushes are a bit more expensive but still bargain-o-rama for the quality), you can see how a little bit of cash can go a long way once you're in there.
My make up haul included:
Mini Divas Baked Eyeshadow in Balanced Champaign, Mini Divas lipsticks in Weildy Geranium and Handy Orchid, Summer 2.0 Two In One Lipstick and Blusher in Exotic Magenta, Bright Duo Baked Eyeshadow in Pearly Pink – Satin Coral and  Glittery Nail Lacquer in Rosy Sand.
First up, I am pretty mind-blown at how long lasting the lipsticks are, especially the two in one lipstick/blusher. I can put this on in the morning, binge drink cups of tea and have a messy salad for lunch and it's still hanging on in there well into the afternoon. The wax and coconut oil base make it greatly moisturising and easy to apply; the only downside to the Summer 2.0 product is it's rounded tip. Although that makes it great for applying as a blusher, it makes it a bit trickier to apply as a lipstick without a brush if you like a particularly pointed cupid's bow.
The eyeshadows colour selections are epic, and I found perfect shade of gold for my complexion. I even went out on a limb and tried a little coral number which, surprisingly to me, has fast become my new favourite. Both of these are baked eyeshadows, meaning you can use them wet or dry and they go on really smoothly. You can apply them with your fingers or with brushes, and although I tend to use a brush, I actually found those wee eyeshadow applicators the easiest way to apply the product for maximum colour pop without using water. I love that the duo eyeshadows are so complimentary with the tones per set; you're getting 3 in 1 for colour combinations making it a great investment purchase.
The nail polishes are incredibly well lasting – I've had two coats of the glittery nail lacquer on (with no base or top coat, I am a rebel!), and after over a week of wear, hands in and out of the sink washing vintage dresses, and getting crafty with sewing a couple of outfits from scratch, I am really impressed it's still on and only mildly chipped. I love that there are both full sized bottles and miniature £1 bottles available; not only are these great for holidays, but it also means you can try a crazy colour without a big commitment and get some fun new shades to play with in various nail art projects without breaking the bank.
Overall, I think it's easy to understand why I'm now a fully fledged fan. If you're looking to try some new make up or experiment with some new colours, visiting KIKO Milano is not going to disappoint, especially if you're on a budget!
Big thanks to Paul and all the lovely staff in the Edinburgh store for taking time to introduce me to the brand and letting me play with all the products –  it goes without saying that I'll be seeing you a lot more often!