Victory rolls, fluff, sequins, glitter and graffiti. What more could a girl want in life? Today I'm rocking my handmade halter top and my super cute new DIY – the retro inspired hair sign of Love – especially for my DIY Fashionista Feature on Cut Out And Keep!
I've definitely got a hot passion for skirts at the moment. Between freshly made circles and newly aquired pencils, it's a lot of fun to mix and match my wardrobe to see what new concoctions I can come up with. This sparkly rainbow number came out last year in H&M and it's easy to see why it's been crazy popular. This is in fact its second run in the stores because the demand was so high, and if you're fast enough you might be able to get your mitts on one here before they sell out again. Did I mention it's in the sale at the moment for only £12? That's right, go get your bank cards at the ready ladies 😉
Anyways, back to it's greatness. Being so shiny and colourful it can go with a lot of different tops, but I love it's pop so much I opted to keep it simple with my black halter and add a little pop with this beautiful hot pink bolero from (believe it or not) Marks and Spencer's. Good to see they have a few things in there that are hitting up that neon trend! It's so warm and fluffy and it goes really well with a good old rock T-shirt for down days – I'm pretty much talking myself into buying the cream one too. It's so cute!!
My lovely lady legs bag is actually an iPad case from Kate Spade. You might remember it from one of my earlier outfit posts, but if not it's a great way to treat yourself to a trendy designer bag without the price tag. I think the actual bag version of this was over £200, and this was closer to £25! The zip does go around all three sides, but as there's little side seams in it nothing falls out when you open it. The best part is nobody know's it's an iPad clutch because it looks so awesome! It'll be our little secret lovely, defo hit up that 'gadgets and accessories' section next time your out shopping!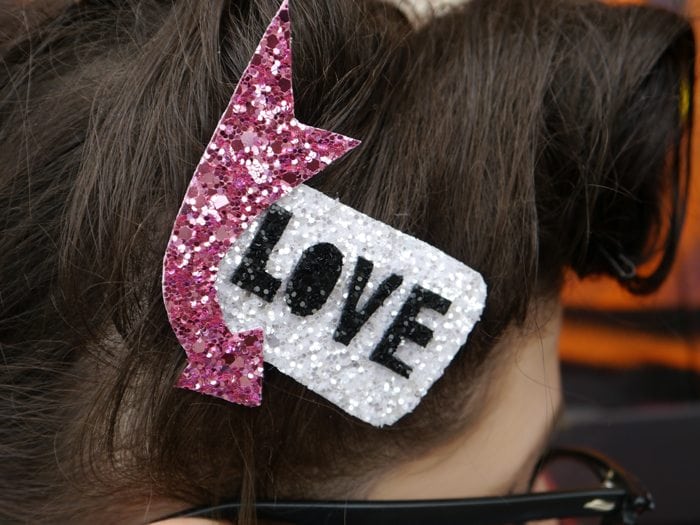 Love my new hair accessory? Coz I know I do! Inspired by vintage signs from the 1950's, I made this sweet hair treat in less than 30 minutes using glitter fabric, glue and a simple hair slide. Want to know how to make one of your own? Check out my 'how to' post for the king of crafty sites Cut Out And Keep, where I've been a featured as this weeks DIY Fashionista. HOORAY!!
Sparkly love and sticky fingers!
Vicky xox