It's the most wonderful time in the year… no, not Christmas, Halloween of course! Every year I like to add in a new tradition to my favourite holiday. Over the month I decorate my house and dress up as many times as possible, then I have a series of traditions which I relish in carrying out on the big day. So far I start my day with a delicious Peanut Butter & Banana Sandwich in memory of Elvis (this sandwich is so good but so deadly I decided that I could only have it a few times a year, and the day I celebrate it the most is Halloween), I carve my jack o lantern and make a big batch of pumpkin soup, then I purchase all the amazing sweet treats I can get my mitts on. Oh! And not to forget, I watch a horrific amount of horror movies to get into the mood. (You may remember my Top 5 Scary Movies blog post, perfect if you're at a loss on what to watch!)
… So dreaming up the next big thing is always a lot of fun for me. This year I realised it was time to add my very own 'witches brew' into the mix, because you cant have a proper paranormal party without a killer cocktail! And naturally, it can't just be any old thing, it's got to be something super special and extravagant…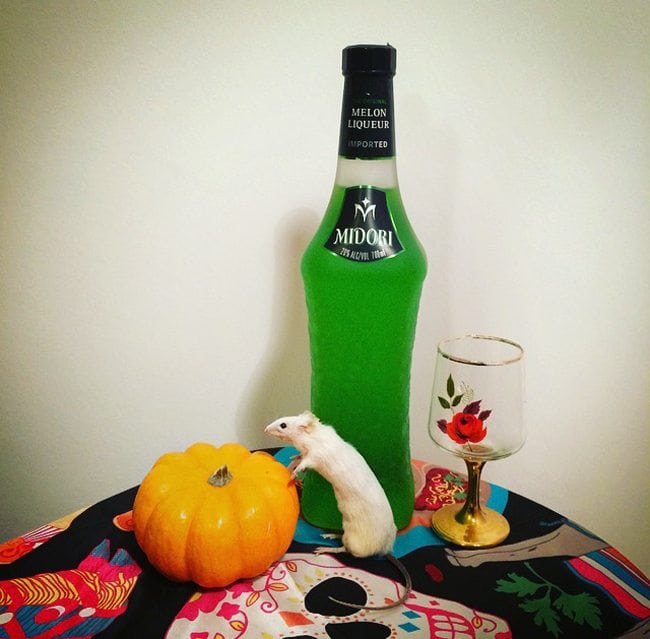 … And nothing could be more Halloween-tastic than Midori!
Look at that colour!
Being a melon liqueur, this drink may look deadly, but it's actually really refreshing, sweet and tasty. It's a great drink on its own and I actually find it particularly delicious mixed with pineapple juice and ice, (not to mention it looks fabulous too!), but when I got introduced to the Midori Pandemonium I knew I had found the perfect cocktail for my repertoire. It's fancy, fizzy and freakishly fabulous! So to get you the spirit of the season I thought I would share the recipe with you. It really is to die for!
Midori Pandemonium
Ingredients:
20ml Midori
30ml Gin
25ml Pomegranate juice
1 shot of Procsecco
A dash of Grenadine
and a squeeze of lime
To make, add all the ingredients into a cocktail shaker, fill with ice and shake your money maker! Once it's had a super good mix, strain the drink into a super cool Martini glass. Garnish with a lime twist and serve with a cheeky shot of Prosecco on the side.
Yum yum!
And I have a fun tip for you too – if you want to keep your cocktails cold without sticking ice in them, frozen grapes work a treat! And for a little twist of flavour, a few raspberries too are always a winner 🙂
There will be no terrifying tricks on my big day, just a whole lot of treats. I'll be munching on Toffee Apple popcorn and enjoying my first ever halloween in my lovely new home. This year I have Texas Chainsaw Massacre, Babadook, Blithe Spirit and Hocus Pocus on at the ready for a night in under the blankets. As you can see, even wee Finn is getting in on the action. Sheer bliss!
Do you have any halloween traditions or recipes to share?
I hope you enjoy this cocktail as much as me. If you're looking for a few more spooktacular cocktail suggestions, check out these amazing concoctions.
Don't forget to drink responsibly and take care of one another ghoulfriends!
Happy Halloween
xox